Chicken Divan Casserole
This casserole recipe came from my former mother-in-law (and still a very dear friend), it was a go-to in her home and she's the one who actually introduced me to the chicken divan concept. With her permission, I adapted it to be "waist-watcher" friendly, but still indulgent and delicious. This is not a fancy gourmet version, but it's every bit as divine as the traditional dish made with Mornay sauce. I'm a fan of quick and easy, and this recipe definitely delivers. In fact, I would bet that you have most of the ingredients already in your pantry! I also like this recipe because it's perfect for meal prep and meal planning. Cook your chicken and broccoli ahead of time for a really easy dinner that comes together quickly OR you can prepare the casserole and refrigerate it for up to 48 hours; personally I think it's better when it sits for a bit before baking. Here's what you're gonna need:
Cooked chicken
Cooked broccoli
Ritz Crackers (I use whole wheat)
Light Butter (my favorite is Land O Lakes Light with Canola)
Light mayonnaise (I use Kraft)
2 cans Healthy Recipe Campbells Cream of Chicken Soup (or whatever "cream of" soup you have on hand)
Nonfat Greek yogurt
Reduced-fat cheddar cheese
Nutmeg (you could leave this out, but why??)
Lemon juice
1-2 tablespoons chicken broth (only if sauce seems too stiff – which is rare so I usually leave this out, it's why it's not listed in the main recipe)
When I was testing this recipe, I tried it with every cream soup Campbell's makes, sans the cream of shrimp. My favorite was a toss-up between using the cream of chicken and the cheddar broccoli. The beauty of it is that you can get creative with this recipe or just use what you have.
Because this casserole calls for cooked chicken and broccoli, I typically prepare them during my regularly scheduled meal prep. For me, meal prep is on Sundays most weeks so I will plan this meal for Monday or Tuesday, that way I can throw the casserole together during meal prep. BUT if you want you can just cook the chicken and broccoli and throw the casserole together the morning or evening you plan to cook it. The casserole will keep just fine for up to 48 hours in the refrigerator before baking.
Chicken is part of my meal-prep planning each week, so I just reserve the chicken I need for this recipe (usually three large chicken breast halves, which yields about 5-6 cups cubed). I sometimes use grilled chicken and other times I just bake it. Or you can use the breast meat from a rotisserie chicken.
I love roasted vegetables, so I like to roast my broccoli for this casserole. Plus it's quick and easy, here's how I do it:
Preheat your oven to 450°. Then cut fresh broccoli into bite-size florets, give them a spray with Avocado Oil Cooking Spray, and then hit them with a little Farmer's Dust.
Roast them until they just start getting some color (about 15 minutes), they should be tender but still have some crunch.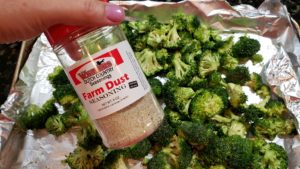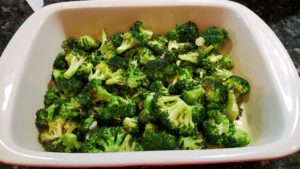 This recipe works (and tastes) just fine though if you'd rather steam it. I will say it again because it's important, be careful not to overcook your broccoli no matter how you prepare it because the broccoli will become mush when you bake the casserole (still delicious, but no one likes mushy broccoli).
One final note, and it's an important one; you can also prepare this as a hearty side dish using a mixture of broccoli and cauliflower instead of broccoli and chicken; it makes for a terrific (and healthy) holiday side dish.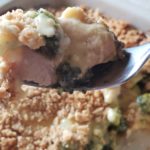 Print Recipe
Chicken Divan Casserole
Ingredients
1½

pounds

chicken breast, cooked and cubed

4½

cups

Broccoli, cooked

fresh or frozen (I used fresh and roasted it for this recipe, see my notes below°)

2

cans

cream of chicken soup, reduced fat

⅓

cup

light mayonnaise

¼

cup

nonfat Greek yogurt

1

pinch

nutmeg

1

tsp

lemon juice

30

Ritz Crackers

(I used the Whole Wheat, and SP's were calculated using the them)

4

oz

Cabot 50% reduced-fat cheddar cheese

2

tbsp

light butter

(I used Land O Lakes Light with Canola Oil)

2

tbsp

parmesan cheese, grated
Instructions
Preheat your oven to 375°. Spray a 2-quart baking dish with cooking spray.

Add your cooked chicken and broccoli to the baking dish.

Add the soup, yogurt, mayonnaise, nutmeg and lemon juice to a medium bowl and mix well. Then pour the soup mixture over top chicken and broccoli mixture

Place the crackers in a plastic ziploc bag and crush using a glass or a rolling pin. Pour into a small bowl and add butter and parmesan cheese. Mix well (I start with a fork, then finish mixing using my fingers) and set aside.

Top the casserole with the shredded cheddar.

Evenly cover the the shredded cheese with the cracker crumb mixture. Then back for 40-45 minutes at 375° until casserole is golden brown and bubbly.
Notes
You can preassemble this recipe and refrigerate for up to 48 hours, in fact, I think the casserole tastes better when prepared a day in advance.  It may increase cooking time just a bit, but it helps to remove it from the refrigerator 30 minutes before cooking to bring to room temperature. 
I cooked my chicken in advance for this recipe by seasoning it with salt and pepper and baking it for approximately 30 minutes.
I also cooked the broccoli in advance. I roasted it for 20 minutes at 450°(just until it started getting some color), do not overcook, you want it to still be a bit crunchy so it doesn't turn to mush when you bake the casserole.
Nutrition
Serving:
1
cup
|
Calories:
337
kcal
|
Carbohydrates:
19
g
|
Protein:
35
g
|
Fat:
13
g
|
Saturated Fat:
5
g
|
Cholesterol:
85
mg
|
Sodium:
611
mg
|
Potassium:
874
mg
|
Fiber:
2
g
|
Sugar:
7
g
|
Vitamin A:
750
IU
|
Vitamin C:
46
mg
|
Calcium:
137
mg
|
Iron:
2
mg