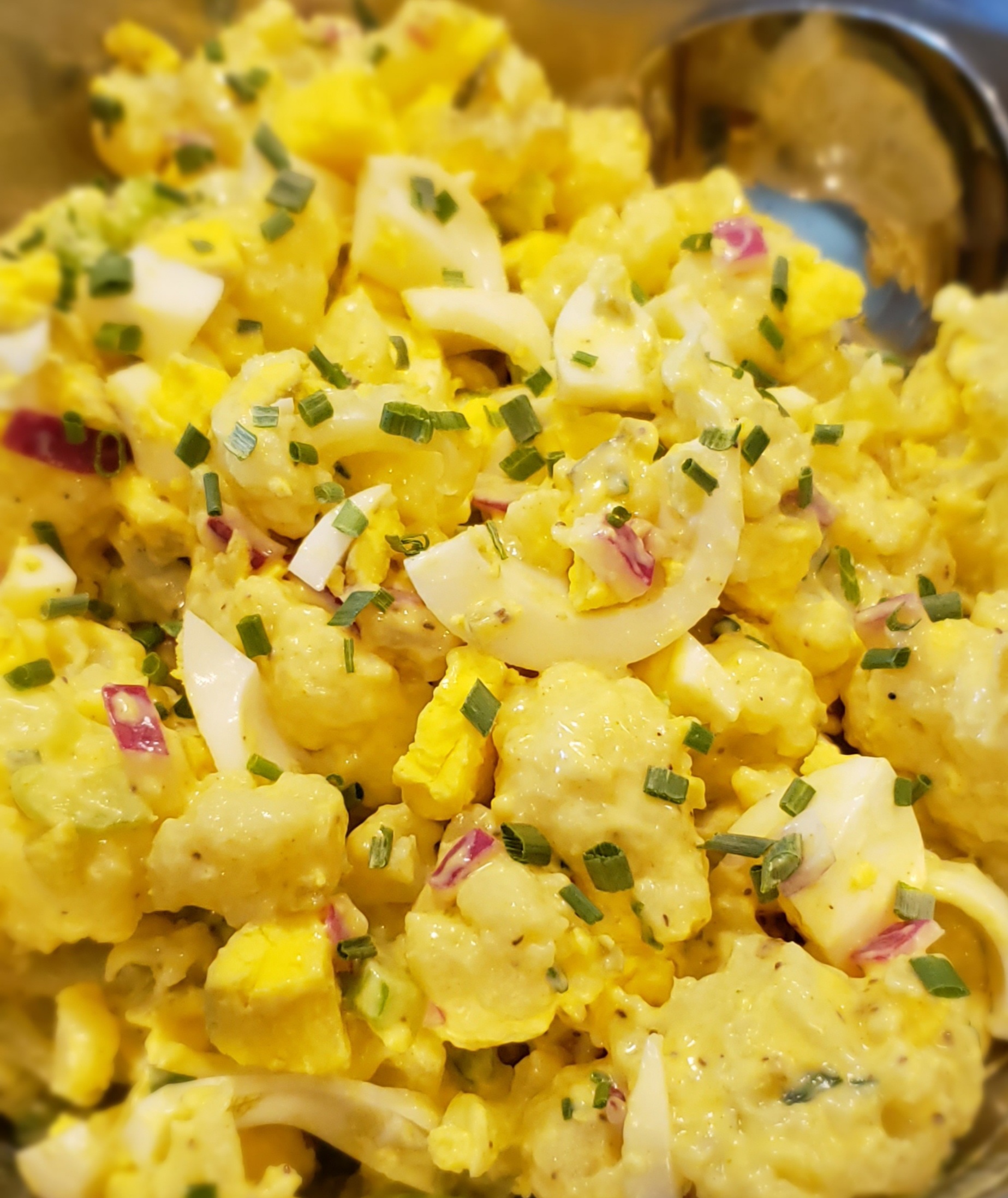 Classic Not Potato Salad
Potato salad is a must-have at any summer gathering because it pairs well with, well anything grilled — and it is my absolute favorite side dish for BBQ chicken. But we all know that classic potato salad is full of carbs, calories and fat. As summer quickly approaches, I've been busy searching for "skinny" side dishes, as a result, recipes for faux-tato salad started popping up in my searches and social media newsfeeds. Clearly, I'm late to this cauliflower game, mostly because I have been (and still am) a skeptic when it comes to using cauliflower as a substitute for some of the best foods ever invented, because, honestly cauliflower is just not that good. Having said that, since starting on my weight-loss journey with MyWW, I've become bold in my use of foods that in the past I have publically scorned — with pretty surprising results actually. In fact, I can tell you that I now prefer plain greek yogurt to sour cream, and cauliflower mash is pretty darn delicious. But this recipe completely leveled-up my cauliflower game.
After seeing various faux-tato salad recipes pop up over the course of a few days, I suddenly had a craving for potato salad. Of course, I had to dust off my family recipe — still skeptical about replacing buttery, golden potatoes with cauliflower — I decided to give it a go and make my own version of the best BBQ side dish ever created, but using cauliflower. What a terrible betrayal to the Yukon golds in my pantry.
My original intention was to just give this recipe a healthy little makeover and it turned into a complete recipe overhaul. Like my blue cheese and ranch dressings, I first turned to non-fat Greek yogurt, but I figured out quickly that yogurt would not be the star in this one. I still used a bit of Greek yogurt, but mayo works much better as the base, and Greek yogurt provides just a bit of tang. What started as a healthy little recipe makeover, turned into a complete recipe overhaul that will definitely become a summer staple for me.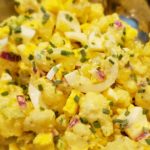 Print Recipe
Classic Not Potato Salad
Ingredients
1

head

Cauliflower, Medium

¼

cup

Red Onion

diced

⅓

cup

Celery

diced

3

Hard-boiled Eggs

roughly chopped

¼

tsp

Weaver's Farm Dust Seasoning

(you can use your favorite seasoning salt)
For the Dressing
⅓

cup

Light Mayo

I use kraft

2

tbsp

Non-fat Plain Greek Yogurt

I use Choboni

1

tsp

Avocado Oil

2

tsp

Dijon Mustard

1

tbsp

Sweet Relish

1

tsp

Apple Cider Vinegar

¼

tsp

Tumeric

2

tsp

Chives

¼

tsp

Weaver's Farm Dust Seasoning

(you can use your favorite seasoning salt)
Instructions
Cut cauliflower into bite-sized florets, place in steamer basket or pressure cooker basket.* Sprinke the cauliflower with the Farm Dust seasoning. Cook cauliflower until tender, about 10-12 minutes. Do not overcook.

In a small bowl, mix the mayonnaise, yogurt, avocado oil, relish, tumeric, chives, and vinegar. Set aside.

Dice the onions and celery and chop the egg and set aside.

When cauliflower is done cooking remove from heat immediately and place in bowl in the freezer for 15-20 minutes to stop the cooking process.
Notes
I steam the cauliflower using my Ninja Foodi Deluxe Multicooker. I set the valve to vent and use the steam function. It is perfectly cooked after 10 minutes.
I also hard boil the eggs in the Foodi, using the 5-5-5 method. 5-minutes hi-pressure, 5-minutes natural release, followed by a manual release, and 5-minutes in an ice bath. However, you can do both on your stovetop.
Stovetop Method:
For the cauliflower: Place the cauliflower in a steam basket, cook over medium-high heat for 10-12 minutes, be careful not to overcook.
For the eggs: Place your eggs in a medium saucepan. Fill the pan with enough water to cover the eggs and bring to a rolling boil, allow to boil for about 5 minutes. Then turn off heat and cover the eggs and let them sit for 20 minutes - do NOT lift the lid. Then remove eggs from water and put in an ice bath for 5 minutes. Peel and enjoy (but save three for this recipe!) The recipe calls for three eggs, but I always make more because they make good snacks.
Nutrition
Serving:
1
cup
|
Calories:
132
kcal
|
Carbohydrates:
10
g
|
Protein:
7
g
|
Fat:
8
g
|
Saturated Fat:
2
g
|
Cholesterol:
115
mg
|
Sodium:
354
mg
|
Potassium:
419
mg
|
Fiber:
3
g
|
Sugar:
5
g
|
Vitamin A:
251
IU
|
Vitamin C:
56
mg
|
Calcium:
49
mg
|
Iron:
1
mg