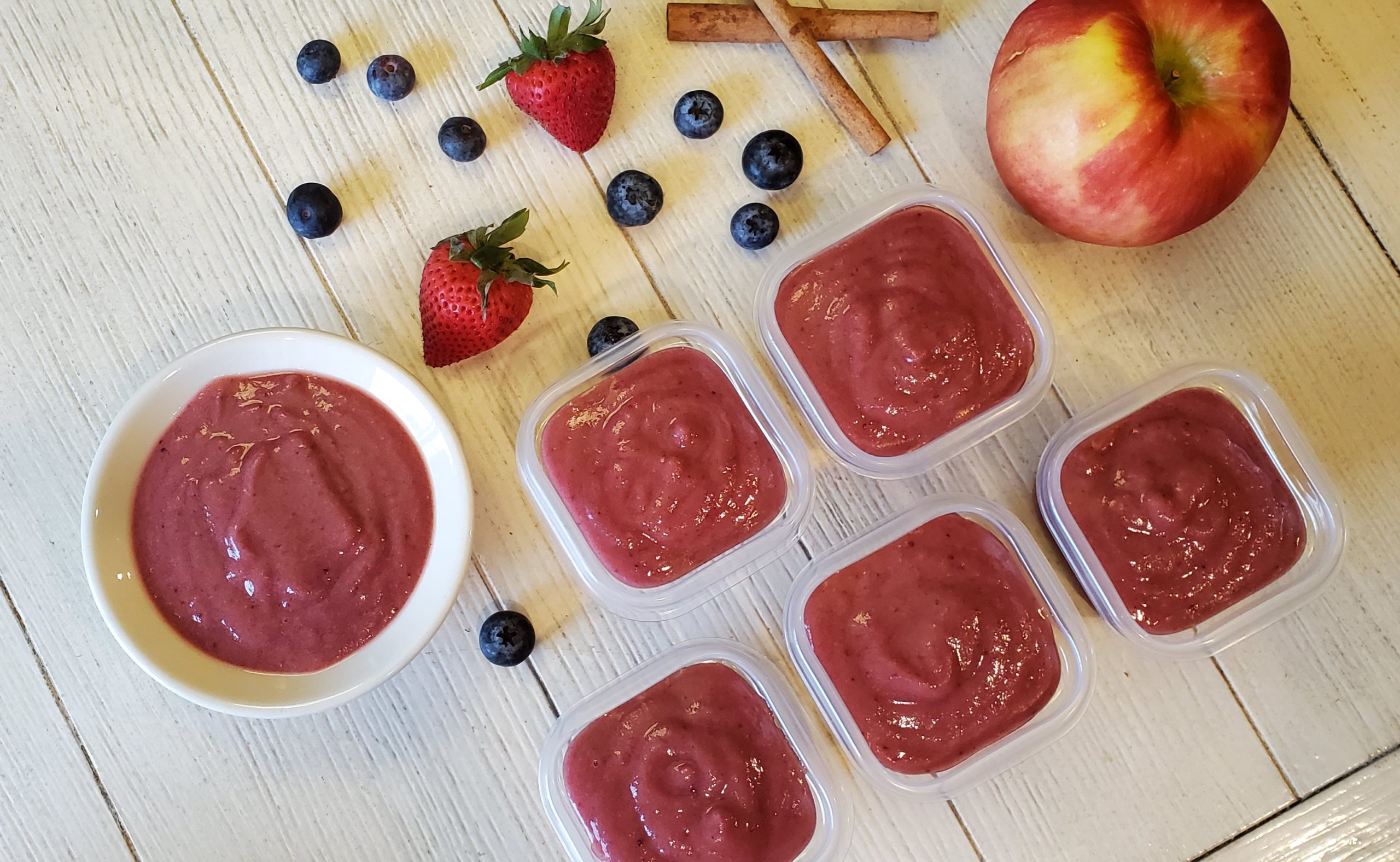 Cherry Berry Applesauce
This post may contain affiliate links. As an Amazon Associate, I may earn commissions from qualifying purchases from Amazon.com. Read the Disclosure Policy.
Applesauce is one of those recipes that is truly foolproof, especially with the tools we have in the kitchen today. I love the smell of my house whenever I have a crockpot full of apples and cinnamon simmering, it screams Fall! You know that feeling when you come home from a long day at work and the aroma of that pot roast or chili you left to cooking all day has permeated the house? Yep, it's that good. Cherry Berry Applesauce was born out of my obsession with Triple Berry Sauce; I truly believe I could write an entire cookbook dedicated to it. Anyway, this applesauce is the perfect marriage of the best fall and summer flavors, making it the perfect September applesauce. AND it's ridiculously easy to make too!
What are the best berries to use?
Absolutely, I use a mix of fresh and frozen. For this recipe, I used the Good & Gather Cherries and Berries blend I found at Target for this recipe. I like it because it's the only cherry blend I could find with tart cherries and no raspberries or blackberries; I didn't want to use berries with lots of seeds for this recipe. I also tossed in a handful of blueberries to round out my two cups of frozen cherries and berries. I found that blueberries and strawberries were the best berries to use in this recipe because they tend to have fewer seeds.
Can this be made using real sugar instead of a sugar replacement?
You can you any sweetener you prefer—or none at all. I make my decision on sweetener I used based on the sweetness of my fruit. The cherry-berry blend I used has tart cherries in it, so I added some sweetener. If you prefer a more tart sauce, you can cut back or leave it out altogether.
Can I use just apples and skip the berries?
No berries are required for this recipe, if you want to make straight-up applesauce, simply eliminate the cherry-berry blend, increase apples in the recipe to ten, and bump up your cinnamon to one teaspoon (or to taste). Depending on how sweet your apples are you may also be able to cut down on the Swerve as well. When I make this without the berries I typically add only a tablespoon or two of the swerve or sugar.
What kind of apples should I use?
My favorite apple was the Honey Crisp until I tried Raves. Now it's a toss-up, so I used both in this recipe. In the past, I have used a mix of Granny Smith and Honey Crisp. You can use any apples you like, but I do always try to do an apple blend. I think it gives more depth of flavor to the applesauce. Every apple has it's own texture and flavor. For those of you who like tart, Honey Crisp and Granny Smith apples are a great combination for applesauce and pie filling!
Do I need to peel the apples?
I never peel my apples, and I'm not even going to pretend it's because all the nutrition is in the skin (although it is a valid argument). I'm just lazy. I like to throw it all in the pot, give it a stir, and walk away until it's done. That said if you plan to use a potato masher to process your applesauce you will have to peel them. Since I use a blender, the skin gets pulverized and you never know they weren't peeled.
To blend or to mash? That is the question.
I am going to have to admit, I have never used a potato masher for my applesauce, I've always turned to my blender. However, if you love chunky applesauce, a potato masher is the way to go and because I have eaten spoonfuls of this before I've blended it, I know it is every bit as delicious done this way. You can also achieve a smoother, but still textured result with an immersion blender. I like using a blender. I have both the Vitamix and the Ninja Professional 1500, both make quick work of this task. The Vitamix provides a bit of a smoother and more velvety texture, very similar to baby food, while the Ninja gave me a little more ability to blend to a texture that was in between. The answer to this one truly is a personal preference.
Can I cook this on the stovetop or in a pressure cooker like the Ninja Foodi or Instant Pot?
I have not tested this recipe using either of those cooking methods. However, I am certain it will work with outstanding results. Because I haven't tested it in my kitchen, I can only offer general instruction (a best guess based on my cooking knowledge) on using these methods. For stovetop, increase water to 3/4 cups and simmer, covered on low heat for 1-2 hours until apples are soft (stirring occasionally).  For the pressure cooker, increase water to 1 cup, and cook on hi-pressure for 8 minutes with a 5-minute natural release. Personally, I prefer to use the slow-cook method for applesauce because it's extremely easy and my house smells fantastic for hours!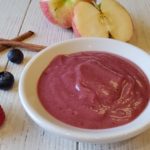 Print Recipe
Cherry Berry Applesauce
Ingredients
7

apple, peeled, cored, and sliced

(I used a mix of Rave and Honey Crisp)

2

cups

fresh or frozen mix of cherrys, blueberries, and strawberries

(I used Good & Gather Cherries and Berries Blend from Target.)

1

tsp

ground cinnamon

2

tbsp

fresh lemon juice

3

tbsp

water
Instructions
*Peel, core, and quarter apples. - See recipe notes

Add all ingredients to slow-cooker, then give a good stir to coat the apples and cherry blend with the sugar, cinnamon, and lemon juice. Cover and set to cook on high for 3 hours or low for 6 hours.

Cook until very soft. Cool completely and then use a potato masher, blender, or food processor to achieve the desired texture.
Notes
To slice and core my apples, I use an apple slicer as pictured, and I use a blender so I do not peel my apples. You can use an immersion blender, food mill, blender, food processor, or a potato masher to finish off your applesauce, it is your preference. This time I used the Ninja Professional 1500 Kitchen System Blender to achieve the results I wanted. 
Nutrition
Serving:
0.5
cup
|
Calories:
69
kcal
|
Carbohydrates:
22
g
|
Protein:
1
g
|
Fat:
1
g
|
Saturated Fat:
1
g
|
Sodium:
2
mg
|
Potassium:
128
mg
|
Fiber:
3
g
|
Sugar:
13
g
|
Vitamin A:
69
IU
|
Vitamin C:
6
mg
|
Calcium:
10
mg
|
Iron:
1
mg