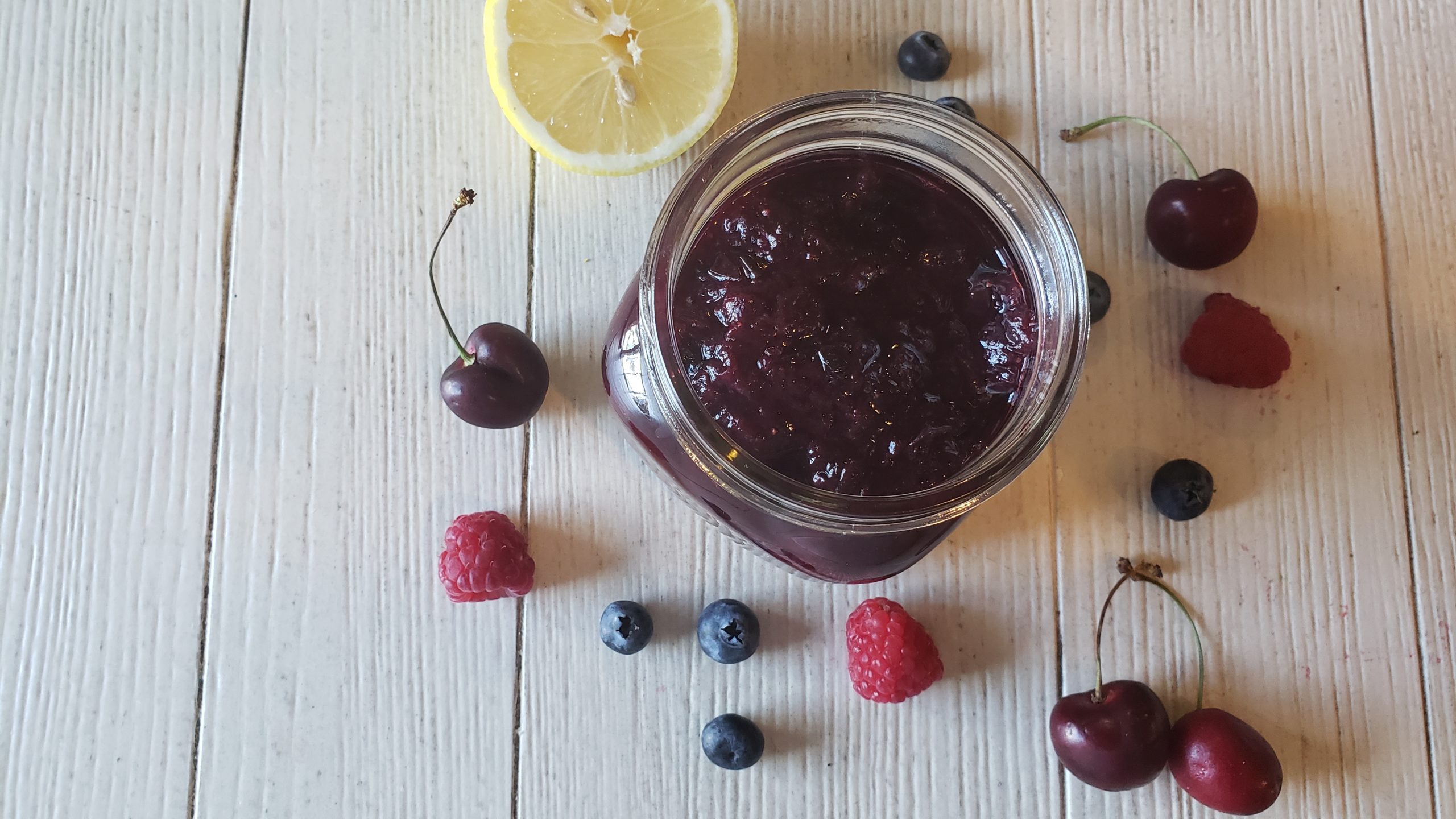 Triple Berry Sauce
This post may contain affiliate links. As an Amazon Associate, I may earn commissions from qualifying purchases from Amazon.com. Read the Disclosure Policy.
This is the one. The best recipe in my collection—and the most versatile. You can put this Triple Berry Sauce on anything! I'm serious, if you follow any of my social media channels, you will see (and understand) that I am truly addicted to this stuff. When I tell you this is always in my refrigerator, I'm not even kidding. I use this stuff on ice cream, on cakes, brownies, my Cherry Chocolate Chip bread, fruit, yogurt, cottage cheese, pudding, mixed with a dollop of fat-free cool whip, PB&J, and honestly, who am I kidding, I eat it right out of the jar. Are you getting a clear picture? AND I haven't even started on what this does for smoothies and dare I say margaritas?! I'm telling you, if you don't make this for your next dessert, you will be so very sad.
I developed this recipe quite by accident. I was trying to make a blueberry sauce for a lemon blueberry loaf by Drizzle Me Skinny. I was making it for a small dinner at a friend's house (mainly because I wanted to enjoy a dessert that was in my point range). I didn't have enough fresh blueberries, but I did have some fresh strawberries and a bag of frozen berries that included strawberries, raspberries, and blueberries. Now,  my philosophy has always been, use what you have, that's what I did; the result was nothing short of amazingly delicious and I think that was the precise moment I dubbed myself a culinary genius.
This deliciously sweet versatile sauce is everything you would want in a sauce, but is it really a sauce or is it a jam or a compote?? Who cares! It's delicious, it's saucy, enough to be used as a syrup, but stiff enough to stand up to a PB&J, and give jelly a run for its position in the classic PB&J sandwich. It is the perfect fruit on the bottom yogurt companion and adds a delicious dessert-like twist to cottage cheese. I really could go on and on, because when I tell you I'm addicted to this, I really mean it. I use it every. single. day. Now let's get to the use what you have part. I will only say this once, or twice maybe, so listen up. You can make this with any berries (or fruit) you happen to have on hand, or cherries, or mango, or peaches, or pineapple…are you getting it? I like a mix, and I always add at least one berry species. My favorite mix is cherries, blueberries, and strawberries. Usually, when I throw in other fruit, it already has three berries in it. So it really becomes a Triple Berry Cherry or Triple Berry Peach sauce or just a fruit sauce. I think you understand what I'm trying to say though, this is a recipe you can make your own—and don't be afraid to get creative.
There are several things you should know about this recipe:
I use Swerve Brown Sugar Replacement (affiliate link) exclusively in this recipe. I used to use a mix of Swerve granulated and Swerve Brown, but I prefer it with brown sugar. BUT any sweetener you choose will work. If you prefer to use real sugar it would work perfectly well, however, it will affect the nutritional values listed in this recipe.
Use whatever fruit and berry combination you have on hand, I promise you it will be delicious. Ok, maybe not bananas…oh, but you could use the sauce over top of bananas that are on top of frozen fat-free cool whip.
When you cook this the fruit will condense to about half of its original volume. You can use the spoon or a masher for a smoother consistency.
You can serve this over stuff WARM; highly recommend!!
There are endless variations on optional flavoring. It's perfect as it is, but for a more complex and fancy flavor try one of these:

a pinch to a 1/4 tsp ground cinnamon (before cooking)
a few slices of fresh habanero or jalapeno (before cooking and then removed)
1/4 to 1/2 tsp vanilla extract (after cooking)
fresh mint leaves (after cooking)
Now go to your kitchen and forage some berries to make this sauce! You won't be sorry!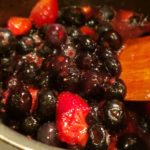 Print Recipe
Triple Berry Sauce
Servings:
6
servings (1/4c)
Ingredients
2

cups

mixed berries

fresh or frozen (I use a mix)

1

tbsp

granulated sugar substitute

(I use Swerve)

1

tbsp

lemon juice*

1

tsp

lemon zest*

1

tbsp

water
Instructions
Combine the berries, sugar, and water in a small pan, over low-medium heat, dissolve the sugar into the mixture.

Bring the mixture to boil - stirring occasionally until you can no longer stir it down. (about 15-20 minutes)

Remove from heat and stir in lemon juice and zest.
Notes
You can use any berries you like. A mix of fresh and frozen works well too. You can also substitute orange juice and orange zest for lemon.
Nutrition
Serving:
1
serving
|
Calories:
27
kcal
|
Carbohydrates:
7
g
|
Protein:
1
g
|
Fat:
1
g
|
Saturated Fat:
1
g
|
Sodium:
1
mg
|
Potassium:
28
mg
|
Fiber:
1
g
|
Sugar:
4
g
|
Vitamin A:
24
IU
|
Vitamin C:
3
mg
|
Calcium:
4
mg
|
Iron:
1
mg