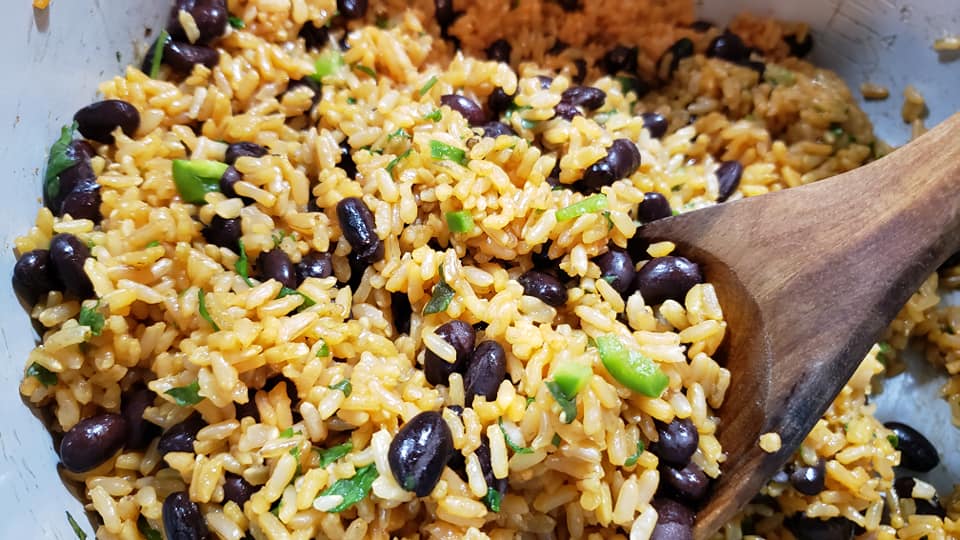 Cilantro Lime Rice and Beans
This post may contain affiliate links. As an Amazon Associate, I may earn commissions from qualifying purchases from Amazon.com. Read the Disclosure Policy.
This cilantro lime rice recipe isn't even trying to be a Chipotle copycat because it's better! I love rice and usually, it's on my plate as a side dish, but I have to say, this packs a hearty punch and is perfect as both a side dish and a main entree! The first time I made this I used only the lime juice, and I added it after the rice was cooked, but I still couldn't get that hint of lime that I wanted. Don't misunderstand, it was still really good, but I wanted to taste a little more lime, after all, lime is in the name of the recipe!  As I continued to play with the recipe, I realized what I was leaving out, lime zest, duh! I am a fan of using citrus zest in everything, it finishes off a dish beautifully, I mean Triple Berry Sauce—need I say more?! The next time I made it I used beef broth instead of water, and added the zest of one lime to the cooking water. What a difference those two little tweaks made. This recipe is incredibly simple and great for meal planning and prep. I love using this in my burrito bowls, chimichangas, as a side with Mexican Chicken, but it also makes a really great main entree with a nice side salad, especially for those meatless Mondays (just make it with vegetable broth or water).
I prepared this in my Ninja Foodi 9-in-1 8qt Multi-Cooker (affiliate link), but you can use any pressure cooker, rice cooker, or even your stovetop. The cooking instructions will vary if using a rice cooker or your stovetop, so be sure to follow the rice the liquid to rice ratios and cook times recommended by those methods if not using a pressure cooker. Below I've listed a few helpful hints about this recipe:
Can I freeze this?
Yes! In fact, it's a great dish to make-ahead and freeze in individual portions for easy lunches or busy weeknight dinners. Just make sure you use airtight containers or freezer bags to keep it fresh as the day you cooked it! When you're ready to reheat, do not "slow thaw" the rice and beans in the refrigerator or on the countertop, or the rice will get mushy. Either reheat from frozen in a frying pan or saucepan with a tablespoon or two of water breaking the rice apart as it heats or simply microwave in one-minute increments stirring in between increments. It helps to put a glass of water in the microwave to prevent the loss of moisture while reheating.
Can I use different beans?
Absolutely, use what you have. I love black beans, but any cooked or canned beans would work. Dried beans would require cooking separately first.
Do I have to use brown rice?
No, you can use your favorite rice, however, cooking times vary greatly between rice styles. I love this recipe with basmati rice, but I adjust the cooking time and liquid for optimal results. For basmati rice some soak it first, I just rinse it, use equal parts liquid, and rice. Then cook on high pressure for six minutes then allow a ten-minute natural release. I have only tested this recipe with brown rice and basmati rice (not the brown basmati).
Do I need a pressure cooker to make this?
No, you can make this in your rice cooker or on your stovetop. But be sure to follow the instructions specific to the cooking vessel you are using.
I'm a big fan of creating and adapting recipes to fit my tastes, cooking (and life) style, that's why many of my recipes can be adapted by you to fit your tastes and cooking style. I like simple and quick recipes that can be ready for a meal or used in my weekly meal plans. I love it when I can cook once and then create an entire week's worth of different dinners with one dish. So, now there's nothing left to say except go make this!!!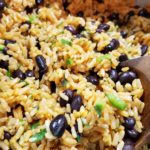 Print Recipe
Cilantro Lime Rice and Beans
Equipment
Instant Pot or Pressure Cooker
Ingredients
2

cups

brown rice

2¼

cups

beef, chicken, or vegetable broth

(you can also use water)

½

tsp

salt

1

packet

Sazon Goya Coriander & Annatto Seasoning

1

can(15.5oz)

black beans

¼

cup

cilantro, roughly chopped

½

cup

jalapeno or green pepper, diced

(I always use jalapeno)

1

tbsp

fresh lime juice plus the zest of one lime

1

tbsp

lime zest (1 lime)
Instructions
Rinse rice under cold water in fine mesh collander until water runs clear.

*Pour broth or water into the inside pot of pressure cooker, add salt, seasoning, zest, and then the rice. Give a little stir and then make sure the rice is submerged. Set to high-pressure for 23 minutes then allow natural release. While the rice is cooking, drain and rinse your beans.

When pressure is released, (be sure the valve has dropped), carefully remove the lid and stir in beans, lime juice, cilantro, and peppers. Replace lid and allow to heat through. Enjoy!
Notes
*If preparing on the stovetop, use the recommended rice to water ratio, add water, rice, salt, and goya coriander & annatto seasoning and cook as directed. The stir in lime juice, beans, cilantro, and peppers when it is finished cooking.
Nutrition
Serving:
0.5
cup
|
Calories:
116
kcal
|
Carbohydrates:
25
g
|
Protein:
2
g
|
Fat:
1
g
|
Saturated Fat:
1
g
|
Sodium:
133
mg
|
Potassium:
94
mg
|
Fiber:
1
g
|
Sugar:
1
g
|
Vitamin A:
63
IU
|
Vitamin C:
5
mg
|
Calcium:
12
mg
|
Iron:
1
mg