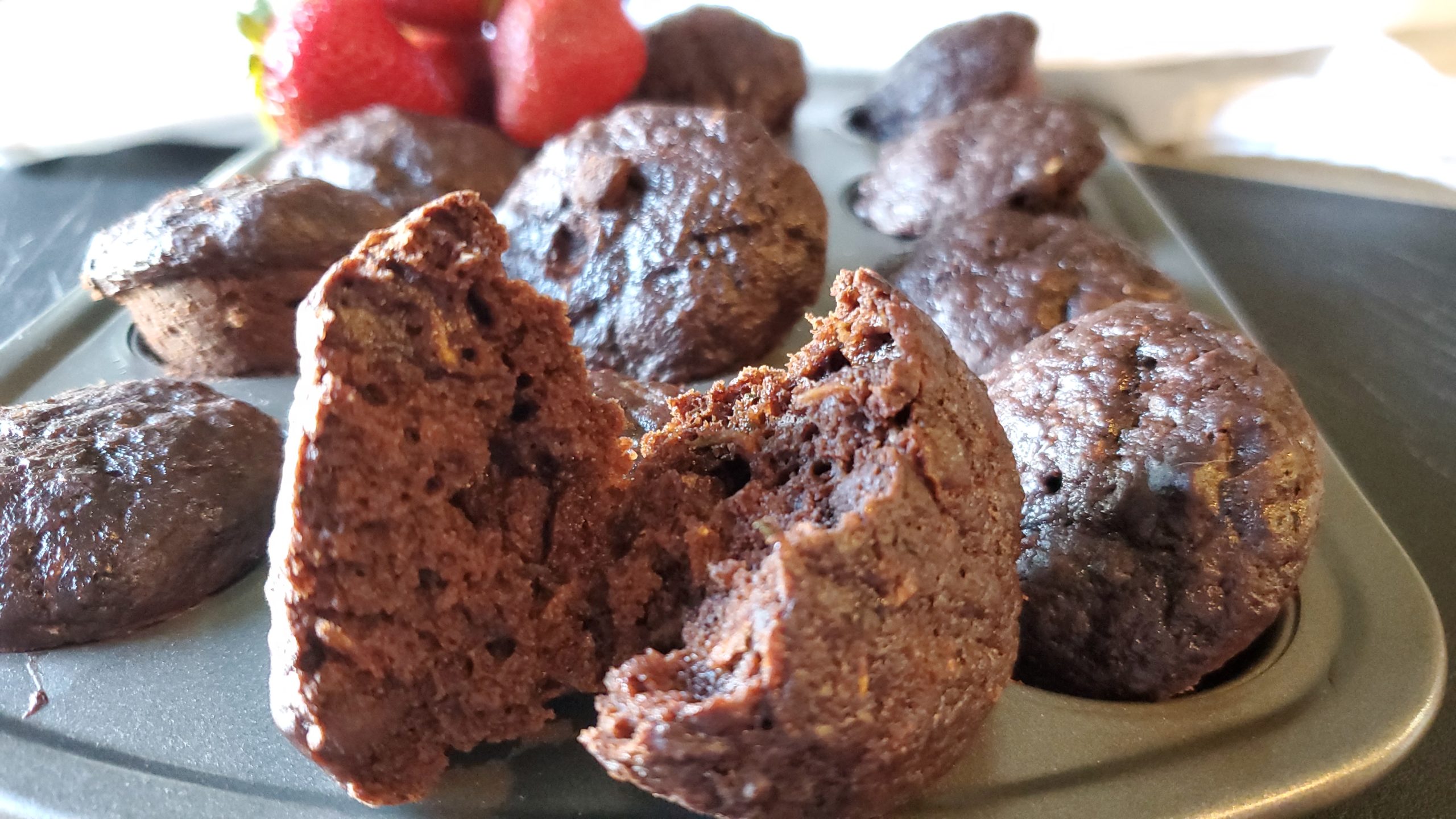 Double Chocolate Zucchini Brownie Bites
This post may contain affiliate links. As an Amazon Associate, I may earn commissions from qualifying purchases from Amazon.com. Read the Disclosure Policy.
Getting your veggies has never been easier! Ok, well, maybe that's an overstatement, but still, these brownie bites are delicious, indulgent, and dare I say…healthy?! A friend sent me a recipe for Mini Chocolate Zucchini Cakes, that she found on BellyFull. She asked me if I could give it a healthy makeover. The original recipe is absolutely delicious (of course I had to try them first), but it was high in both MyWW™ Smart Points and calories. I also thought the texture in both recipes was more reminiscent of brownies than cake, although the mini muffins were definitely cakier (yes, that is a word, I checked) than the bread in my tests. And my taste testers all preferred these in the bread form vs. the muffin form because they were more like brownies. 
I would love to tell you that zucchini is the star of this recipe, but it's just not—at least not from a flavor standpoint. That said, zucchini adds wonderful texture and moisture, not to mention a healthy shot of nutrition to this dessert.  If I hadn't made it myself, I would not have believed that there was zucchini in it. I even fed it to the pickiest guy I know (who I happen to be married to); he wouldn't have touched these brownie bites with a 33-1/2 foot pole had he known there was zucchini in them. His reaction was, and I quote "mmmm this is good, it doesn't even have that healthy taste like your first bread test," —he was referring to my first go around with the Chocolate Cherry Chip Bread, he thought it had an aftertaste (and it did from the sugar replacement.) So, my point is, make these brownie bites, they are delicious, nutritious and I guarantee you won't regret it!
To start, I lightened up this recipe by using applesauce in place of the butter, at a 1:1 ratio. But I didn't want to completely omit the butter so I also added two tablespoons of Land O' Lakes Light Butter with Canola Oil. I cut the sugar (and calories) substantially by using a combination of Truvia™ Cane Sugar Blend and Swerve™ Brown Sugar Replacement. This is my favorite baking combination. I'm not a fan of replacing ALL of the sugar in a recipe with an alternative sweetener, I think baked goods need some real sugar, and I've found that the texture and flavor are better when I use a sugar blend rather than just sugar replacement. I also added a teaspoon of Organic Espresso Powder because I think it adds a depth of flavor to anything chocolate. You can most definitely leave it out, and probably wouldn't miss it, but really, why?
What you need to know:
This recipe can be made as mini muffins or mini loaves, it's truly your preference. Baking time is a little different depending on which vessel you choose, but either way, they are delicious.
I used Lily's Semi-Sweet Baking Chips, but you can use what you have on hand—but the nutritional value and points were calculated using Lily's brand.
I used self-rising flour, but you can use all-purpose flour, just whisk 1-1/2 tsp baking powder and 1/4 tsp salt into your flour.
I didn't test this recipe in a full-size loaf or muffin pan, but I am certain they would work just as well, however, the number of servings and baking times would need to be adjusted. Don't forget if you're adjusting the serving count, it will most likely affect the MyWW™ Smart Point value, so be sure to add it to your recipe builder.
Baking time varies between ovens. I did the muffins in my oven, they took 17 minutes. The mini loaves were baked in my Ninja Digital Air Fry Oven, I baked them at 325° for 30 minutes and they were perfect. My point is that you can use whatever baking vessel you like, but be sure to adjust the cooking time as needed. The traditional oven takes 15-17 minutes for the muffins and 30-40 for the mini-loaf pans at 350°.
Now, let's talk about muffins or bread? Personally I really loved this baked it in mini loaf pans. It slices into nice brown-like pieces and they are so rich and moist I could honestly eat the entire loaf! The muffins had a cakier texture, every bit as rich and moist, just not as dense. I can promise you that no matter how you bake them, you'll be back for more; make sure you leave room for dessert!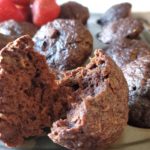 Print Recipe
Double Chocolate Zucchini Brownie Bites
Ingredients
½

cup

Truvia™ Cane Sugar Blend

½

tsp

kosher salt

(if using table salt use only ¼ tsp)

1

egg

½

cup

unsweetened applesauce

2

tbsp

Land O Lakes Light Butter with Canola Oil, melted

1

cup

grated zucchini

1

tsp

vanilla extract

3

tbsp

non-fat plain Greek yogurt

1

cup

self-rising flour

½

cup

unsweetened cocoa powder

(I used Ghirardelli's 100% cocoa, dutch-process)

1

tsp

Organic Espresso Powder

68

g

Lily's Semi-Sweet Style Baking Chips

(about ½ cup)
Instructions
Coat a 24-count mini muffin pan or 4 mini loaf pans with non-stick cooking spray.

In a large bowl, whisk together the sugar, salt, egg, applesauce, and butter until well combined. Mix in the zucchini, vanilla, and nonfat yogurt until incorporated.

Sift the flour, cocoa powder, and espresso powder into the wet mixture and stir until just combined. Gently fold in the chocolate morsels. Do not over mix.

Fill each muffin hole with a heaping tablespoon of batter or pour the batter evenly into the prepared mini loaf pans. If using mini muffin pan, bake for 15-17 minutes or until a toothpick inserted into the center comes out clean. If you are using mini loaf pans, increase baking time to 30-35 minutes or until a toothpick comes out clean.

Let cool slightly before slicing or serving. Enjoy!
Notes
RECIPE NOTES:
You can use all-purpose flour for this recipe, but be sure to whisk 1-1/2 tsp of baking powder and 1/4 tsp of salt into the flour.
Baking time will vary depending on the size pan you use. I tested this using a mini muffin pan and mini loaf pans. It made 12 mini muffins and 2 mini loaves. The entire recipe will yield 24 mini muffins or 4 mini loaves.  I did not test this in regular-size muffin loaf pans but I don't see why you couldn't use them. But remember, the points and nutritional values are based on 24-servings.
Nutrition
Serving:
1
slice/muffin
|
Calories:
66
kcal
|
Carbohydrates:
15
g
|
Protein:
1
g
|
Fat:
2
g
|
Saturated Fat:
1
g
|
Cholesterol:
7
mg
|
Sodium:
60
mg
|
Potassium:
56
mg
|
Fiber:
1
g
|
Sugar:
4
g
|
Vitamin A:
80
IU
|
Vitamin C:
1
mg
|
Calcium:
7
mg
|
Iron:
1
mg